We believe in building better communities
Dream is a leading developer of exceptional office and residential assets in Toronto, owns stabilized income generating assets in both Canada and the U.S., and has an established and successful asset management business, inclusive of over $24 billion of assets under management across four Toronto Stock Exchange ("TSX") listed trusts, our private asset management business and numerous partners. We also develop land and residential assets in Western Canada. Dream expects to generate more recurring income in the future as its urban development properties are completed and held for the long term. Dream has a proven track record for being innovative and for our ability to source, structure and execute on compelling investment opportunities.
We provide asset management services for four TSX listed funds:
Dream Office REIT
Canadian office REIT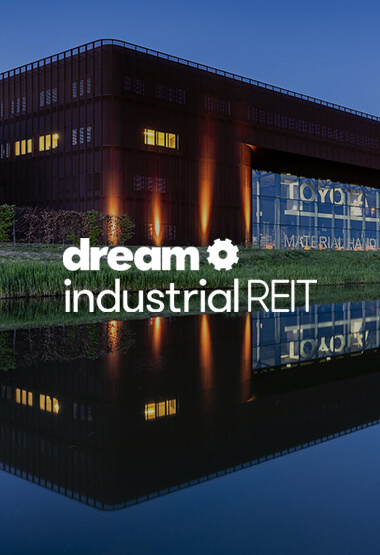 Dream Industrial REIT
Owner and operator of high-quality industrial properties across Canada, the U.S. and Europe
Dream Impact Trust
Canada's first publicly traded vehicle focused on impact investing
Dream Residential REIT
We provide asset management services for Dream Impact Trust, Canada's first public impact investing vehicle
As a signatory to the Operating Principles for Impact Management, Dream is required to release an annual Disclosure Statement, which describes how each of the Impact Principles are integrated into Dream's investment process, and the extent of alignment with each. Dream is also required to undergo an independent verification of the alignment of its Impact Management System with the Impact Principles at regular intervals. Dream has released its inaugural 2021 Disclosure Statement and results of its first verification – please click the links below:
Have a question for us?
Investor Inquiries
Dream Unlimited Corp.
30 Adelaide Street East, Suite 301, Toronto, ON M5C 3H1
Transfer Agent
Computershare Investor Services
100 University Avenue, 8th Floor, Toronto, ON M5J 2Y2