Dream Impact Trust targets projects that create positive and lasting impacts on communities and the environment, while achieving market returns. The Trust provides investors with access to an exceptional portfolio of real estate development and income properties that would not be otherwise available in a public and fully transparent vehicle, managed by an experienced team with a successful track record in these areas.
Overview

About

Impact

Investors

Team

News
Overview
Diverse portfolio of high-quality real estate assets
$749.6M
in total assets as at June 30, 2022.
$9.31
net asset value as at December 31, 2021.(1)(updated annually)
Have a question for us?
Investor Inquiries
Dream Impact Trust
30 Adelaide Street East, Suite 301, Toronto, ON M5C 3H1
Transfer Agent
Computershare Investor Services
100 University Avenue, 8th Floor, Toronto, ON M5J 2Y2
About
Dream Impact Trust
Dream Impact Trust focuses on investments that generate strong financial returns and positive social and environmental impacts.
The Trust is a real estate impact investing vehicle that targets projects that create measurable positive and lasting impacts on communities and the environment, while achieving attractive market returns. The Trust's underlying portfolio is comprised of exceptional real estate assets reported under two operating segments: development and recurring income.
The Objectives of the Trust are to:
Create positive and lasting impacts for all our stakeholders through our three impact verticals: attainable and affordable housing, inclusive communities and resource efficiency;
Balance growth and stability of the portfolio, increasing cash flow, unitholders' equity and net asset value ("NAV") over time;
Leverage our access to an experienced management team and strong partnerships in order to generate attractive returns for investors;
Provide investors with a portfolio of high-quality real estate development opportunities, concentrated in core geographic markets; and
Provide predictable cash distributions to unitholders on a tax-efficient basis.
The Trust is managed by Dream Asset Management Corporation, an innovative real estate manager and developer primarily focused on the commercial and residential sectors in North America and Europe.
Operating Segments
The Trust's operating segments currently consist of the following:
Development — comprised of participating mortgages receivable, a hospitality asset under redevelopment, and direct and indirect investments in residential and mixed-use developments; and
Recurring income — comprised of a portfolio of office and commercial real estate income properties in the Greater Toronto Area ("GTA") and interest-paying mortgages and corporate loans.
Our Strategy
With our enhanced focus on impact investing, we are aligning all of our efforts around our core mission — building better communities for people to live, work, and play in — which will result in a better investment for our unitholders.
Focus on Impact Investments that generate both strong financial returns and provide positive social and environmental impacts in our communities.
Invest in Hard Assets. The Trust invests in hard assets such as real estate development, real estate lending and real estate. The tangible nature of real estate assets makes impact investments more easily measurable.
Employ Experienced Asset Manager with a Strong Track Record. Dream (the Trust's asset manager) has always believed in building better communities and over the last two decades, its projects have not only been profitable but have also provided significant positive and measurable impacts to its communities and their residents.
Flexible Structure. The Trust is not restricted by SIFT Legislation that applies to REITs and it is not required to comply with the regulations governing mortgage investment corporations. As a result, we seek to find opportunities in areas with limited competition to achieve higher risk-adjusted returns.
Efficient Tax Structure. The Trust is a taxable SIFT trust which requires the Trust to pay tax at the entity level. Renewable power and real estate assets generate tax depreciation often sufficient to shelter their income and, as a result, distributions may exceed taxable income, resulting in a portion of such distributions being treated as a return of capital for tax.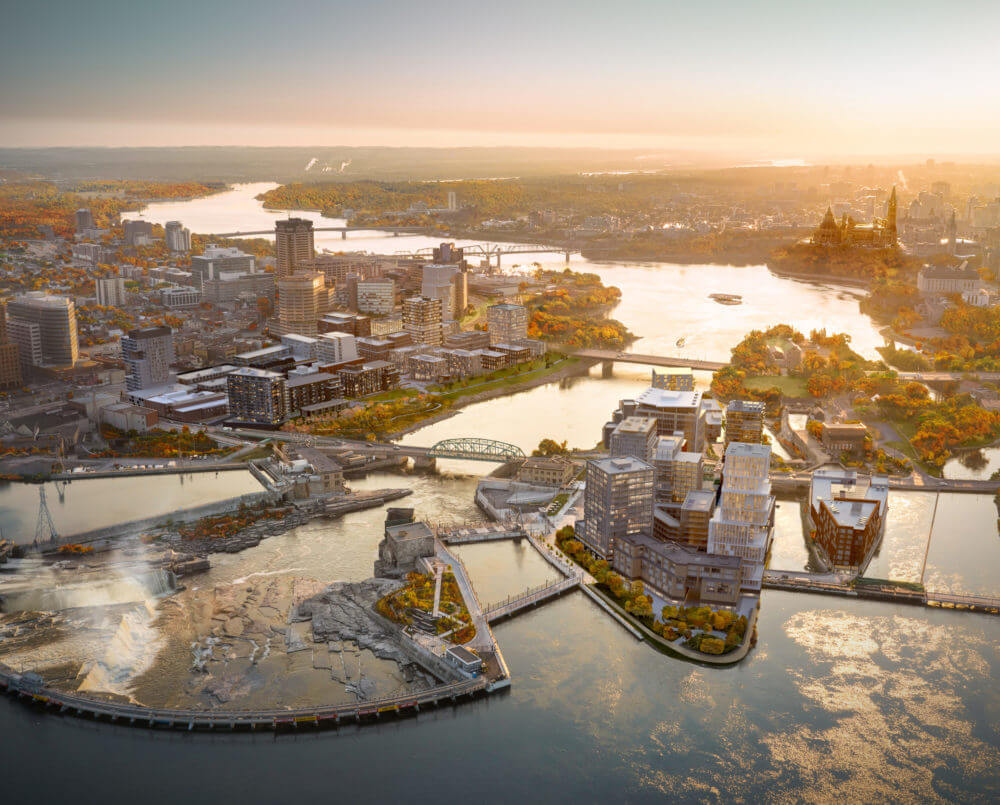 Gatineau/Ottawa
Zibi
A 34 -acre mixed use waterfront community in the National Capital Region which will be the first designated "One Planet Master-Planned Community" in Canada. It is expected to be one of the least environmentally impactful communities in North America.
Toronto
West Don Lands
The West Don Lands is a purpose built, LEED Gold, rental community and is one of the largest affordable housing projects in Canada. It is the first development within the Provincial Affordable Housing Lands Program to break ground.
Canary District, Toronto
Indigenous Hub
The first purpose-built, Indigenous Hub in a major North American City being developed in partnership with Anishnawbe Health Toronto and will provide the indigenous community with a health centre, career centre, and day-care, as well as an integrated market rental apartment.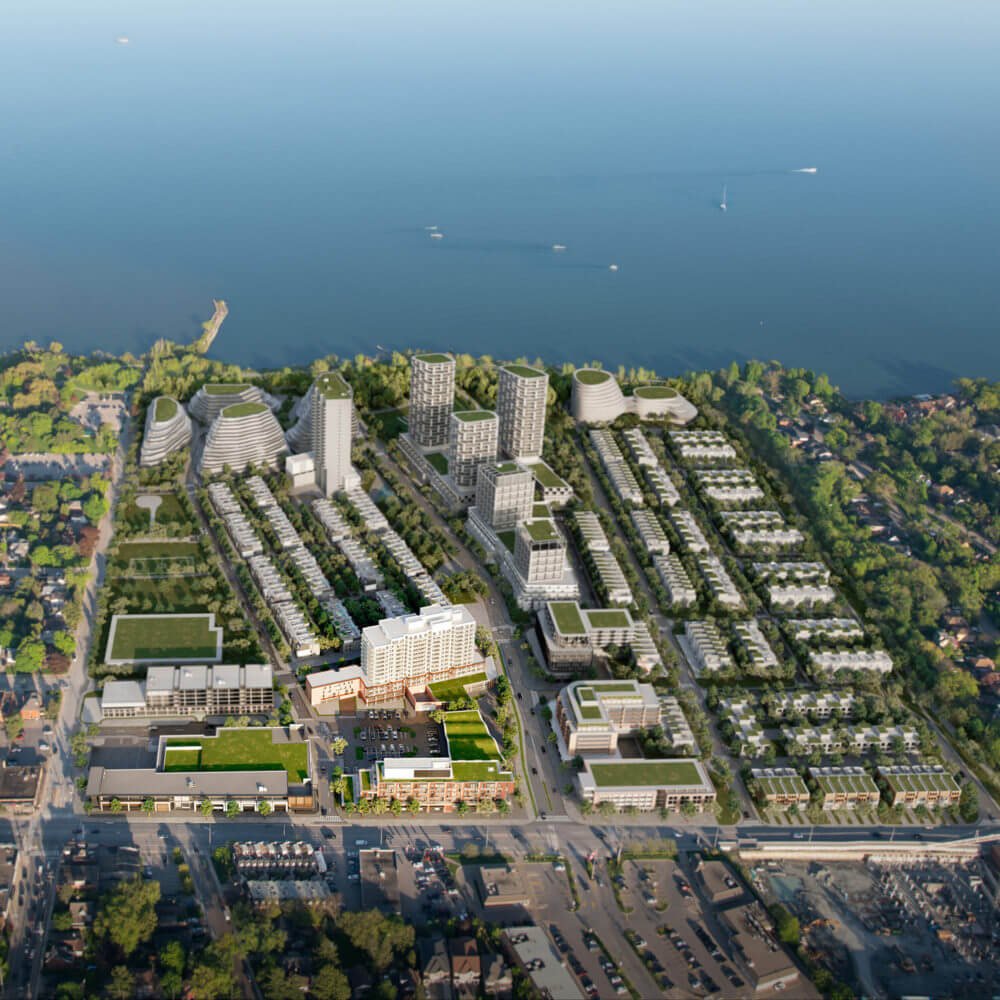 Mississauga
Brightwater
Brightwater will be transformed from a former oil refinery into a vibrant, green, mixed use waterfront community and home for 6,000 people in the highly desirable Port Credit neighbourhood.
Want to learn more?
If you have any questions or inquiries, please contact [email protected]
Impact
Overview
Impact Investing is one of the fastest growing segments of the $3.2 trillion sustainable investing market.
Impact investing is the intention of creating measurable positive, social and environmental change in our communities and for our stakeholders, while generating attractive market returns. Integrating impact into our projects is financially attractive and actively contributes to our mission of making a meaningful positive and lasting impact within our communities.
As an investor and developer of communities, Dream is in a strong position to improve sustainability and advance socio-economic equality through purposeful development and management of real estate.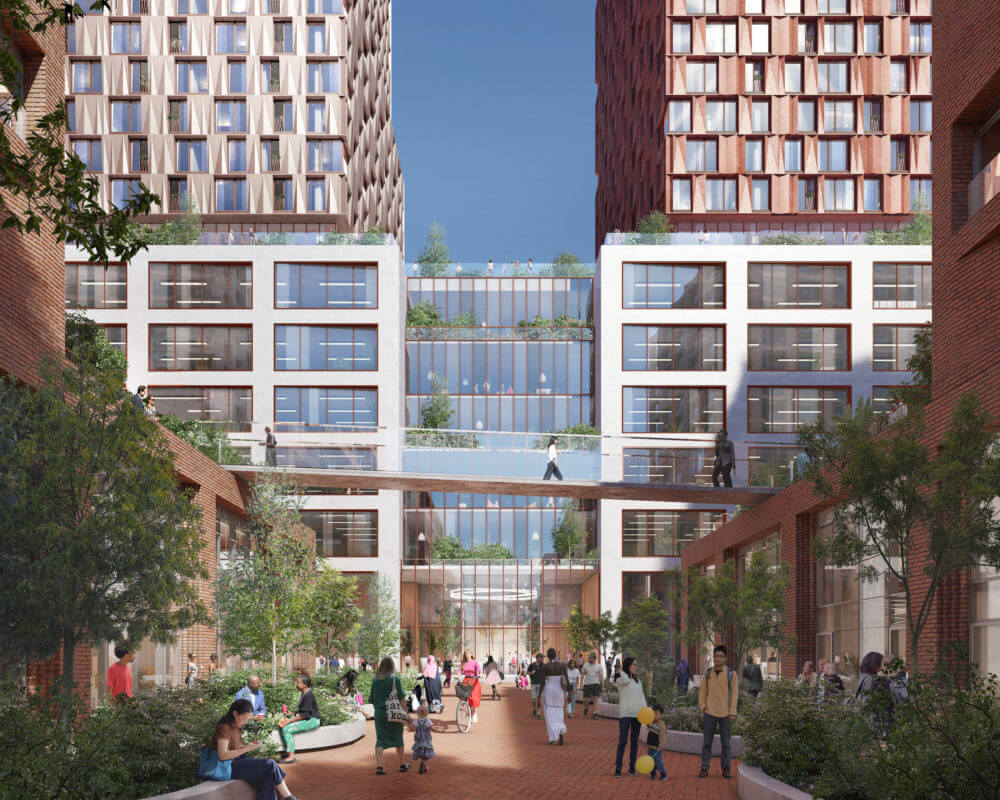 Our Focus
Impact Investing Focus
The Trust is well positioned, with its existing assets and robust development pipeline, to deliver strong financial returns to its stakeholders, while having a meaningful, positive impact along three verticals: Attainable Housing, Inclusive Communities and Resource Efficiency. Our three impact verticals align with the universally recognized and accepted UN SDGs.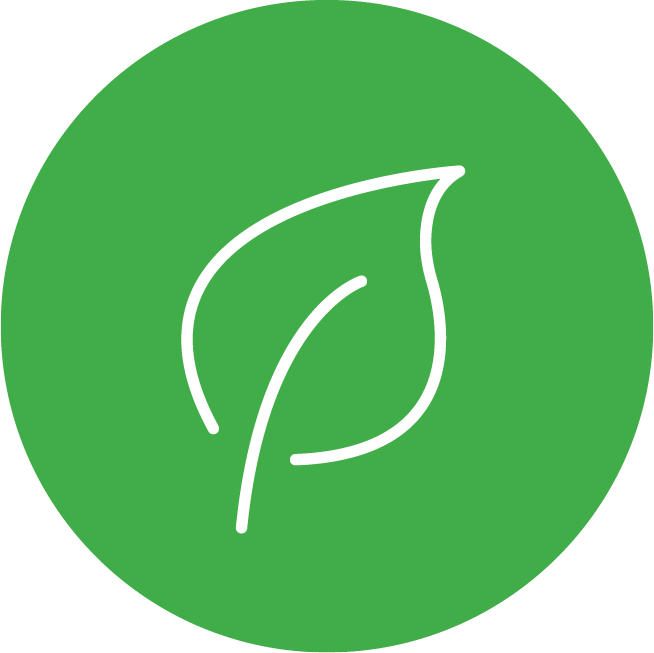 Environmental Sustainability and Resilience
Decarbonize real estate and reduce water and waste usage while also creating resilience against natural disasters and major climatic events.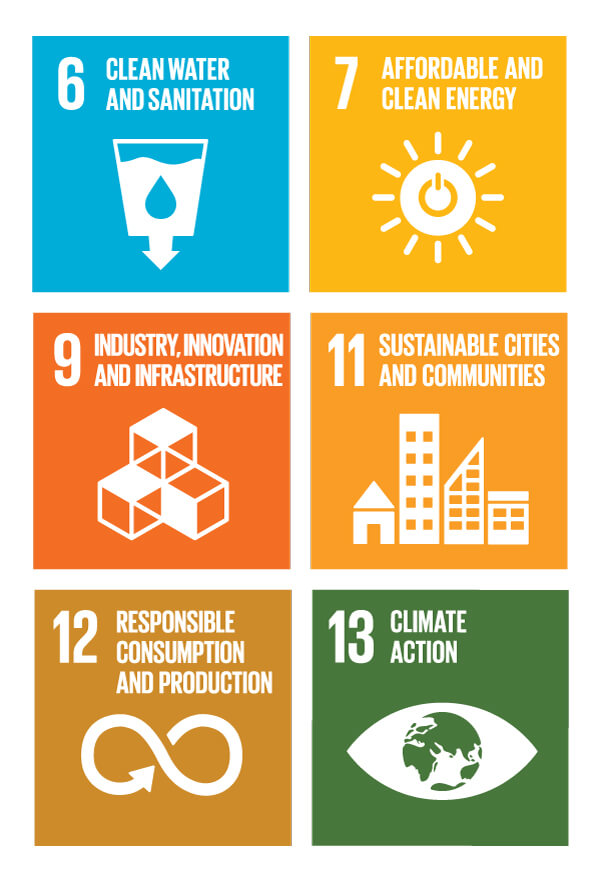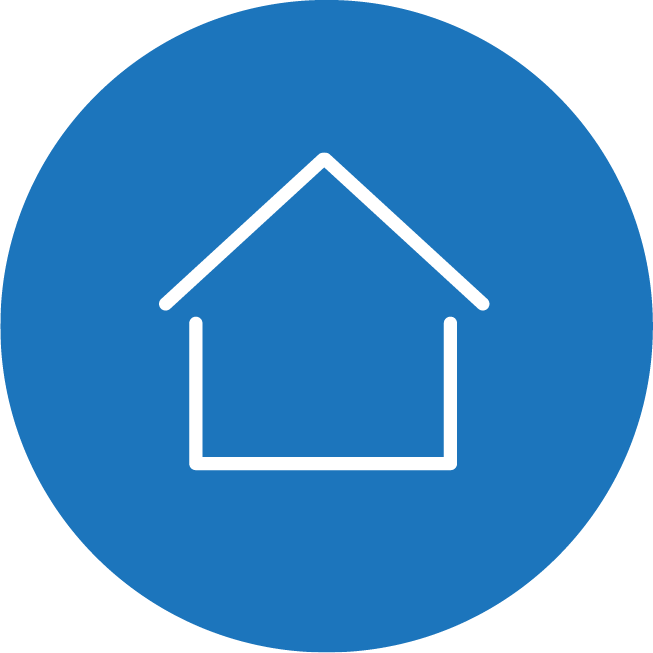 Attainable and Affordable Housing
Invest in mixed-income communities that are transitoriented, located close to employment opportunities, and support an overall lower relative cost of living with high quality of life.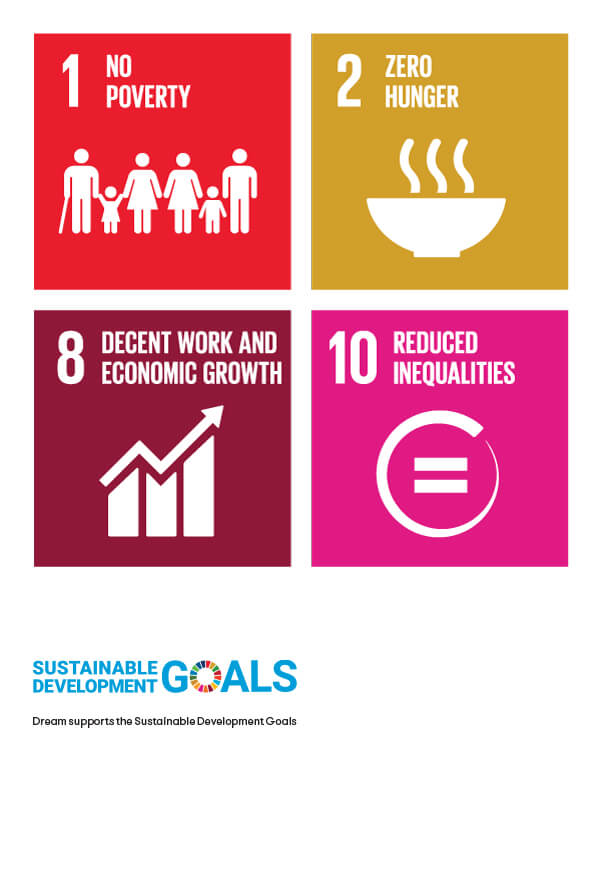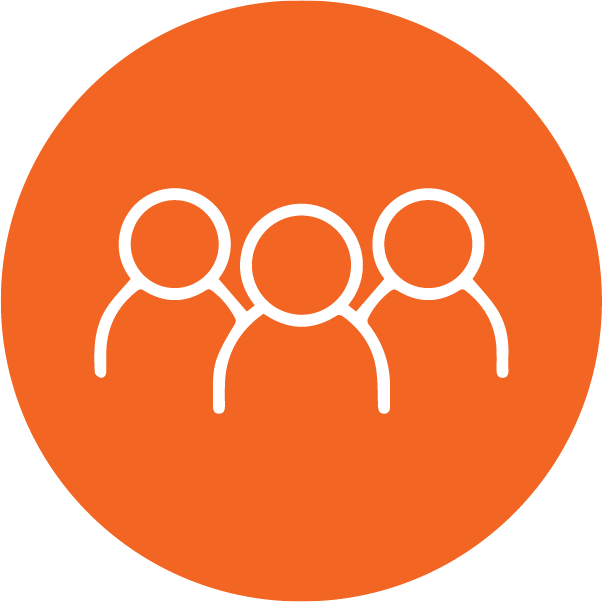 Inclusive
Communities
Intentionally design and program communities that are safe and inclusive for everyone. This includes creating spaces that encourage mental and physical health, and wellness.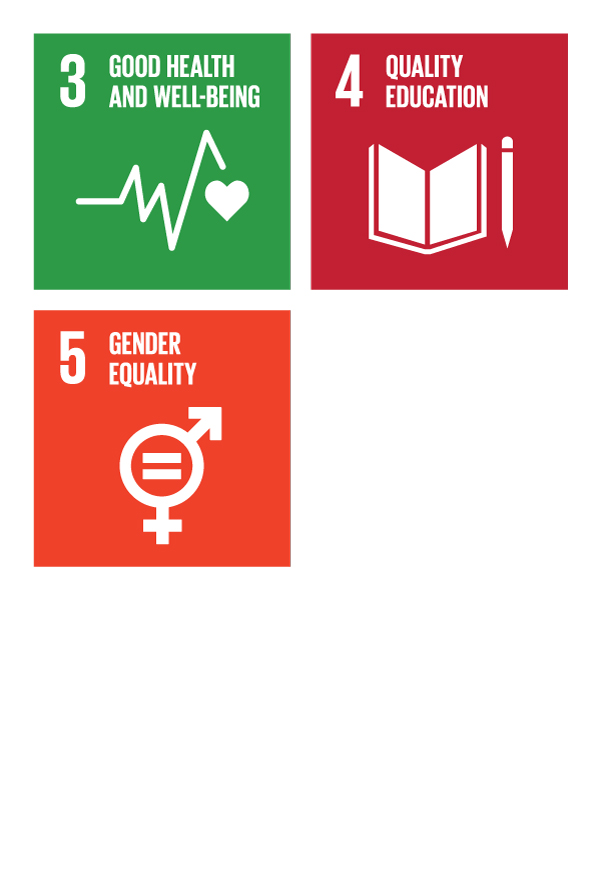 The Trust's portfolio strategy will be anchored by the United Nations Sustainable Development Goals ("UN SDGs") and it will report its impact performance against the leading standards as they evolve. Together, these verticals are aligned with 13 of the 17 UN SDGs, which have the support of 162 countries and territories.
Approach to Impact Management
Dream's impact effort will be consistent with leading industry frameworks. We are committed to an impact management approach that incorporates guidelines from the world's leading impact and sustainable accounting bodies. Our approach will be guided by
Intentionality
For every impact investment, Dream creates an impact plan that identifies multiple pathways to impact, each of which is aligned with a UN SDG and has a measurable outcome with key performance indicators.
Measurement
For each pathway, impact will be scored according to various dimensions. We intend to measure our impact efforts in a repeatable, systematic way, consistent with broadly recognized sustainability accounting standards.
Verification
Our processes and our Dream Impact Management System will be verified by a recognized independent firm.
As a signatory to the Operating Principles for Impact Management, Dream is required to release an annual Disclosure Statement, which describes how each of the Impact Principles are integrated into Dream's investment process, and the extent of alignment with each. Dream is also required to undergo an independent verification of the alignment of its Impact Management System with the Impact Principles at regular intervals. Dream has released its inaugural 2021 Disclosure Statement and results of its first verification – please click the links below:
Dream Impact Management System
Dream's impact pathways are the internal system we use to measure the impact each investment creates on a consistent basis across the portfolio. They allow us to understand, evaluate, and effectively communicate the impact we are generating.
Primary
Primary pathways are the methods in which Dream intends to provide positive impact, each of which is aligned with a UN SDG and has a measurable outcome with key performance indicators.
Secondary
Secondary pathways are an extension of our impact pathways, and they are meant to further illustrate the benefits that our assets have on individuals, families, and the communities within which we operate.
Negative
Negative pathways are the negative externalities that Dream's business activities may have on people and the environment.
Investors
Financial Reports & Filings
Financial Reports
Regulatory Filings
Have a question for us?
Investor Inquiries
Dream Impact Trust
30 Adelaide Street East, Suite 301, Toronto, ON M5C 3H1
Transfer Agent
Computershare Investor Services
100 University Avenue, 8th Floor, Toronto, ON M5J 2Y2
Team
Management Team
Michael J. Cooper
Portfolio Manager
Meaghan Peloso
Chief Financial Officer
Jason Lester
Vice Chair, Development
Jamie Cooper
Director, Impact Investments
Stephen Cleghorn
Director, Portfolio Management
Kim Lefever
Director, Investor Relations
Governance
We are committed to sound and effective corporate governance. Our goal is to not only meet the requirements established by securities laws and regulators but also to uphold the spirit of "good corporate governance" and we always strive to communicate in an open, honest and transparent manner.
Trust Board
Dr. Catherine Brownstein
Member
Pauline Alimchandani
Member
GP Board
Dr. Catherine Brownstein
Member
Pauline Alimchandani
Member
Committees
The Trust Board and GP Board believe that their committees assist in the effective functioning of the Boards and help ensure that the views of Independent Trustees & Directors* are effectively represented.
Independent Trustee or Director
A Trustee or Director that is independent within the meaning of NI 58–101. An Independent Trustee or Director is one who is not an employee or executive officer of Dream and who is free from any direct or indirect relationship which could, in the view of the Board, be reasonably expected to interfere with independent judgment.
Dr. Catherine Brownstein
Member
Audit Committee of the Trust Board
Audit Committee of the GP Board
Governance, Compensation and Environmental Committee
Charters, Policies and Declaration of Trust
The Trust is committed to sound and effective corporate governance. Our goal is to not only meet the requirements established by securities laws and regulators but to also uphold the spirit of 'good corporate governance.'